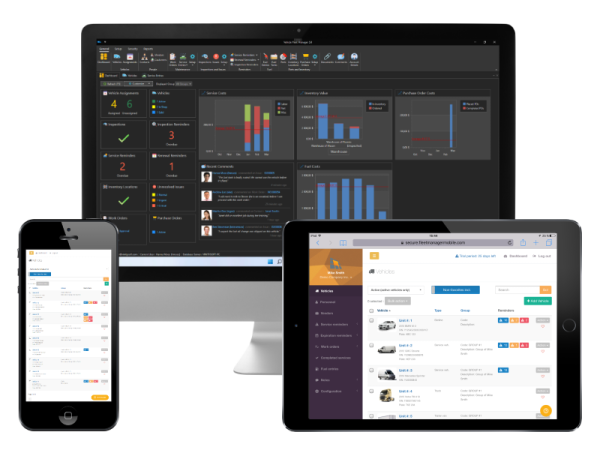 Corporate
Vehicle and Asset Management Solutions
Whether your company maintains a vehicle fleet that would fill a parking lot or an inventory of assets that would fill a warehouse, the fleet vehicle management and tool and asset management solutions at Vinity Soft will keep them accessible, manageable, and in service.
Our unique approach to developing our products is based on real world experience. When you buy a fleet vehicle management or tool and asset management software solution from Vinity Soft, you're buying software that was written to fulfill real world needs.
Start Your Free 30-day Trial Now
Discover Why More Than 4000 Businesses Have Chosen

Our Solutions
One-Time Payment. Best Value.
There are no subscriptions with our software (seriously, who likes subscriptions?). There are also no maintenance costs or any other hidden charges. You simply make a one-time payment for the software and you will get full, unrestricted access to the entire program and all of its features. We're confident this makes our fleet and asset management softwares the best values on the market.
Quick & Easy Setup
Our fleet and asset management softwares were designed to be easy to use and easy to set up. Download a free, fully-functional 30-day trial and start using it in minutes. Then, after purchasing, simply continue using the fully unlocked software just as before with no migrations or re-installations.
Web Enabled
Our fleet management software is engineered so that no matter where you or your staff are; whether in the office or outside dealing with customers and working remotely, your database and information are available to those that need it when they need it.
Satisfaction Guarantee
Your confidence in your fleet management software solution must be absolute. These are the software that drives your fleet operations and watches over your assets. At Vinity Soft, we only want customers that are 100% satisfied with their purchase.
Vehicle Fleet Manager 5.0
More than 4000 businesses around the world depend on Vehicle Fleet Manager as the fleet management software to keep their fleets on the road, well maintained, and well monitored.
We took everything that made version 4.0 such an amazing success and made it even better. Then we added a bunch of new features, enhanced the graphics and layout, and made the whole thing about as flexible as an Olympic gymnast.
The end result is Vehicle Fleet Manager 5.0, a piece of fleet management software that is nothing short of remarkable. Service schedule maintenance, vehicle work order management, inventory management, driver and technician management, and managed odometer readings are just the start.
We've also included insurance tracking, fleet fuel card management, barcode functionality, vehicle depreciation and much, much more. Explore what our fleet management software can do for you!
Learn More
Tool & Asset Manager 2.0
With Tool & Asset Manager 2.0 as your company's tool management software, you'll never have to wonder where company assets are located or who has them. Whether it's a five-dollar screwdriver or a $2500 laptop, our tool management software will ensure that you'll always know who checked it out and how long they plan to have it.
You'll also get alerted if they're late bringing it back. With reservation scheduling, employees will never have to wonder if a particular tool or asset is available. If they know they'll have a specific need on a specific day, our tool management software will prevent that item from being loaned out to anyone but that employee.
A well run shop and well managed inventory depend on knowing where company assets are located at any given time. Tool & Asset Manager makes that a reality.
Learn More
Incredible Value. Designed
with
Your Needs in Mind
Our custom editions mean that you never have to buy more software than you'll actually need. With versions of our software designed for single user environments all the way up through unlimited licensing, you'll find an edition of Vehicle Fleet Manager or Tool & Asset Manager to fit your specific needs; at a cost that will keep you out of the accounting department's crosshairs.
Our customers are our
biggest fans
What our clients are saying about us...
"Thank you for all your work on this software. I like the software. It's well worth the price. It's pretty easy to manage and print report is excellent. I use another fleet management software at my other Job. I prefer this one from Vinity Soft. Thx!"
"I downloaded a trial version of this software originally looking for a solution to track our shop inventory. I was immediately impressed not only with inventory tracking but the vehicle maintenance, fuel tank and card system. The software was more dynamic than I thought it would be and after a short trial we purchased the network version. I was also more than impressed with the customer service response to the couple of minor set up questions I had. They got back to me almost immediately with a response and a solution."
"We are an oilfield trucking and service company that was looking for something to track fleet vehicle details, work orders in our shop, inventory, purchase orders, and fuel cards. Being in an industry facing some tough times financially, budget was a concern. We found Vehicle Fleet Manager 4.0 and after a short trial, immediately bought the network version. Over time we have begun to use more and more of the functionality, and have found the program to be user friendly and a great value for the price. We are also very happy with the support provided. We pushed the fuel log pretty hard with lots of entries, and managed to find some bugs, and the support staff always fixed the problem within hours, not days. I would recommend the program if you are looking for something easy to use, comprehensive, and doesn't cost a fortune."
"I searched the internet and downloaded several programs to demo. When I started using Vehicle Fleet Manager and found out how easy it was to use and then factored in the cost, it was a no brainer on which program to buy. Since then I have found things in the program that, if changed, could make life a little easier for me. I sent them an email and within a week they had the update ready. Customer service is excellent - they usually respond within a day, and the program is excellent. Thanks Vehicle Fleet Manager personnel!"
Try It,
60-Days Risk-Free
Your confidence in your fleet or asset management software solution must be absolute. These are the softwares that drives your operations, after all. At the same time, we only want customers that are 100% satisfied with their purchase.
Not only can you try Vehicle Fleet Manager 5.0 and Tool & Asset Manager 2.0 free and fully functional for 30 days but we also offer a 30-day money back guarantee after your purchase.
That is 60 risk-free days to figure out if the software is right for you and your operations (although we're pretty sure that it will only take a couple of days for you to find out that it is).